September 2017
Karen Cooper
will be speaking at the Association of Treasurers of Religious Institutes annual conference in Montreal on
September 29-October 2, 2017
.  She will be speaking about a Charity Law Update with a Focus on Mergers and Amalgamations.  Karen's presentation will provide an update on charity law and CRA issues of relevance to religious institutes including recent legislative changes, CRA publications and caselaw. Part of the presentation will also focus on some of the civil law issues and processes relevant when religious institutes deal with fundamental changes such as mergers, amalgamations and dissolution, including some key considerations and best practices.
October 2017
C. Yvonne Chenier will be involved in a panel discussion for ViTrēo discussing "Nonprofit Leadership: How can the fundraiser be a bold leader?"  The podcast will appear on
October 12th
on the 
ViTrēo website.
November 2017
November 1, 2 and 3, Drache Aptowitzer LLP in association with the Ottawa Community Foundation and the Ottawa Arts Council will present C.A.L.L. – Charities Accounting and Legal Lessons.  Join Adam Aptowitzer, Sylvie Lalonde, and Karen Cooper as they talk about common problems facing charities and not for profits.  We are pleased to be joined by other lawyers sharing their expertise and accountants for a comprehensive perspective and wide range of topics.  For more information on the speakers and topics please visit our website at
www.drache.ca\news\call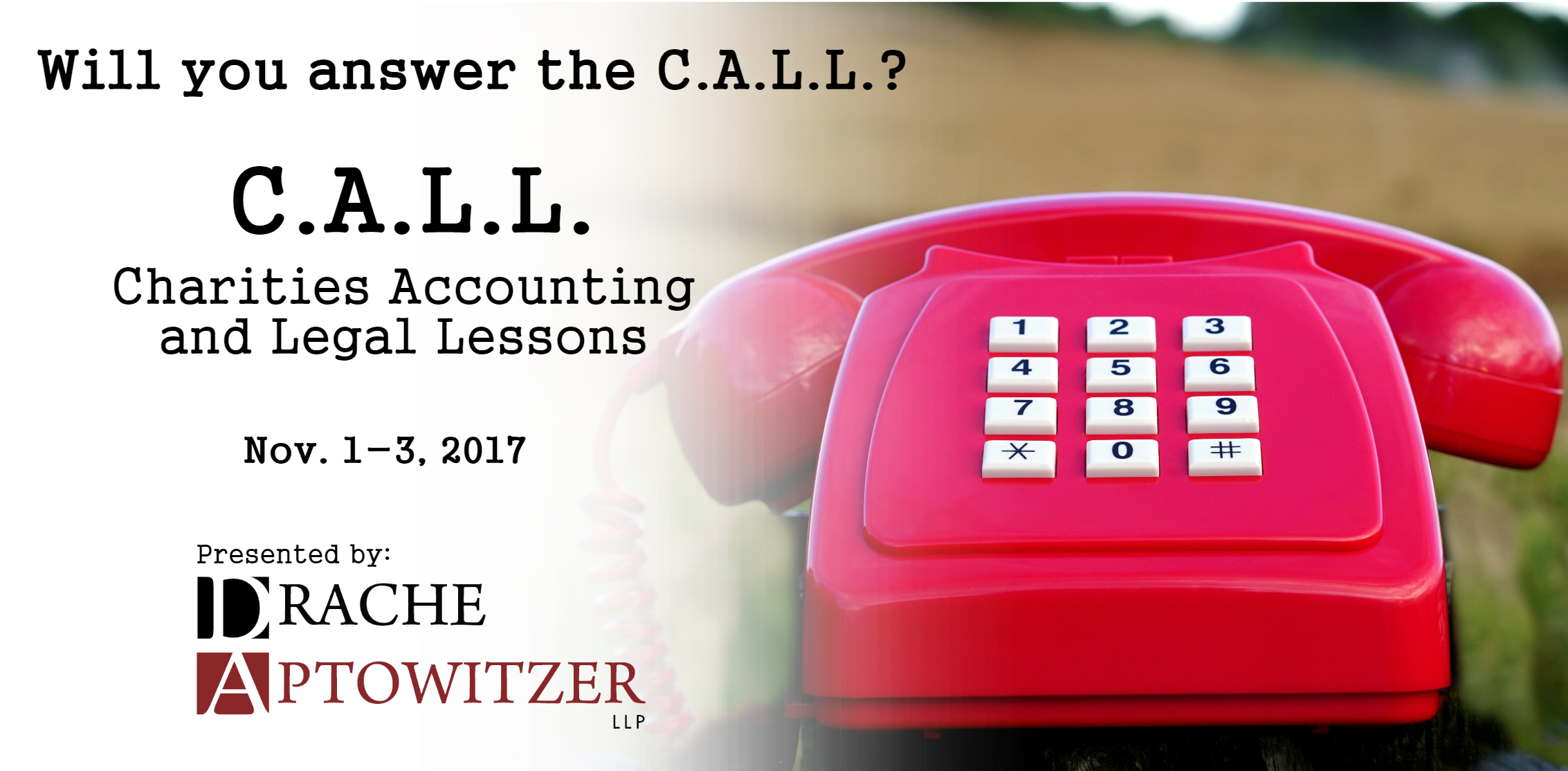 ---
Join us during the last week of September as  C. Yvonne Chenier and Adam Aptowitzer go on tour with the annual Global Philanthropic National Training Academy.
September 25: Mississauga
September 26: Toronto
September 27: Calgary

September 28: Edmonton

September 29: Vancouver
On
July 17th, 2017
, 
Sylvie Lalonde
 presented to the University of Ottawa's new francophone CLE program for lawyers, called "PratiquO". Sylvie's presentation was in French and was an introduction to Not for Profit Organizations for lawyers who do not practice in the area. It was recorded and will be posted on the PratiquO portal where it can be viewed by other lawyers for CLE hours.  For more information on the PratiquO program please see 
this announcement
 or 
visit the portal. 
March 2017
Topic:  Fundraising Without Borders
Summary: Looking to expand your fundraising base? Come learn the legal ins and outs of fundraising across Canada and throughout the world. In today's fast-paced and globalized world the rules seem to be constantly changing.  Learn about legal and tax issues and concepts when searching for cross border donors. Find out what it takes to fundraise for a charity in other Canadian provinces, navigate foreign tax systems, and create a donor network that works for you.
May 2017
Karen Cooper
will be speaking at the upcoming Association of Fundraising Professionals (AFP) conference to be held on
May 4th, 2017 in Kingston, Ontario
.
Topic:  Best Practices for Your Gift Acceptance Policy
Summary: With the increasing demand for donor involvement with and recognition from substantial gifts, it is important for charities to manage expectations by establishing clear guidance on what they can and cannot accept. This presentation will discuss the purposes of gift acceptance policies, the process of developing a gift acceptance policy and some of the best practices, including compliance with Imagine Canada's accreditation requirements and ethics, by examining some specific examples.
If you would like to attend and hear Karen speak, please visit the
AFP conference website
for further details.
C. Yvonne Chenier QC
will be participating in a panel at the annual Canadian Bar Association Charity Law Symposium Charity held on
May 12th, 2017 in Toronto, Ontario
discussing
"PRACTICE TIPS FOR VOLUNTARY DISCLOSURES FOR NPOs AND CHARITIES"
.  She hopes to see you there.